Eric Calder, Bachelor of Arts and Diploma in Business Administration at Wilfrid Laurier University, NCCP High Performance II with Hockey Canada, NCCP Hockey Canada Certified Skills Coach, Can-Fit-Pro Certified Personal Trainer, First Aid (Trainer 2)
Coaching experience: Eric is a Certified NCCP High Performance 2 Coach with NCCP Level 3 Theory and a Certified Skills Coach from Hockey Canada. As well a Can-Fit-Pro Certified Personal Trainer with First Aid (Trainer 2 certification). He has been one of the most sought-after instructors in the area for many years. His professional coaching includes Canadian University, Junior B, Elite Professional and Junior hockey in Europe, and 21 years with Skills Plus Hockey, along with many years of Minor Hockey Coaching and Training. Eric lectured in the Kinesiology Department on the Theory of Hockey at Wilfrid Laurier University from 2004 – 2015.
Scouting Experience: Eric has worked as an OHL scout with the Kitchener Rangers and as an evaluator at many selection camps.
Playing Experience: 11 years of professional hockey including NHL / AHL and elite professional hockey in Europe. Awards and championships include two-time Club European
Cup Finalist, CIAU All-Canadian, Memorial Cup Champion, and Canadian MVP of World Junior Championships, Cherry Cup Champion 1080, Completed the Canadian Cross Country Ski Marathon Five Times since 2009 (2 Gold Level, 1 Silver Level and 2 Bronze Level)
Experienced Staff
Skills Plus instructors are highly trained athletes with a wealth of experience. Our staff has a high level of proficiency and is able to demonstrate each skill at an elite level. We use correct technique, giving our students a good visual image of the different skills being taught. To maintain a successful teaching environment, Skills Plus utilizes a balanced player-to-instructor ratio (approximately 4:1).
Group Leaders and On-Ice Skill Coaches

Roy Russell
 Skills Plus Hockey Skills Coach and Group Leader
BA, Bachelor of Education
University of Guelph and Windsor Varsity Hockey Player for 4 years
Former Cornwall Royal of CHL, Memorial Cup Champion 1981, OHL Fastest Skater 1983
Former Waterloo Minor Hockey Player, and Siskin: Cherry Cup Champion 1980

Mike McIIveen
 Skills Plus Hockey Group Leader since 2002 (20 years)
Current Coach of the Waterloo Bantam AAA Hockey Team
BA, Bachelor of Education
Currently an Educator with the Waterloo Catholic District School Board
University of Waterloo Varsity Hockey Player for 4 years
Professional hockey player with the Columbus Cottonmouths of the SPHL
Jamie Robertson
Instructor with Skills Plus since 2005
Group leader and on-ice
Physical and Health Education Teacher with the Waterloo Region District School Board since 1996
Waterloo Minor Hockey Coach from MD to AA since 2004

Kaitie Phelan
Skills Plus Hockey Skills Coach / Group Leader since summer 2010
Played minor hockey with the Kitchener Lady Rangers
Player with the K-W Rangers PWHL team
Played four seasons with the Women's Brock Badgers OUA
Graduated with a psychology degree
Bachelor of Education from Nippissing University
Spent two years teaching primary school in London, England
Worked the past two winters travelling across Canada on tour with Rogers Hometown Hockey festival
Currently an occasional teacher on the Waterloo Regional District School Board

Keegan Calder
Skills Plus Hockey Skills Coach since 2008….and a participant from the age of 5
Former Player with Waterloo MHA, Kitchener Dutchmen (GOJHL) and Guelph Storm (OHL)
Group Leader since 2016
NCCP Development 1

 
Adam Robertson
Skills Plus On Ice Coach (age 15-19)
Skills Plus Hockey Participant (ages 6-15
Group Leader

Waterloo Minor Hockey Graduate

Waterloo Minor Hockey AA/AAA Hockey Coach

Bluevale Collegiate Athlete of the Year, 2x WCSSAA All-Star in Hockey 

BKin Wilfrid Laurier University (Varsity Baseball Player) 21'
BEd Brock University in Health & Physical Education, Biology 23'
Occasional Teacher for WRDSB
Kitchener Panthers IBL member
OHA Junior Hockey Official & Minor Hockey 
Kathleen Smith
 Currently is the editor at the Goderich Signal Star Newspaper
Former player in Memmingen, Bavaria, Germany, playing in the DFEL women's ice hockey leagueGrew up playing AA boy's hockey in Waterloo
Played for Cambridge Fury girl's hockey team
Played for Team Ontario and won gold at Canada Games
Attended Providence College for 4 years scholarship to play women's ice hockey in
NCAA Division I league, a part of the league champions in freshman year
All-Rookie Team All-Stars, League All-Star Team 2 times,
Providence College Women's Ice hockey team MVP 2008
Working at Skills Plus Hockey since summer 2003
Ursula Benesch
Worked at Skills Plus Hockey as a Group Leader since summer 2001
Mother of two boys and a girl who went on to play Junior B Hockey, University Varsity Hockey and Professional Lacrosse
Grew-up playing ringette

 
Erin Normore
Skills Plus Hockey Skills Coach / Group Leader since summer 2004
Graduated with Masters degree in guidance and counseling.
Spent a season as assistant coach at Hamilton College, a division 3 school in upstate New York
Played in Memmingen Germany in the professional womens league, won league scoring title
Player with the Providence Friar Normore finished her career atop the all-time games played list with 143 appearances, having played in every game during her stellar four-year career.
Broke the 20 point plateau all four seasons and finished her career with 91 points on 66 assists and 25 goals.
Team MVP in 2009, Hockey East All-Rookie Team in 2006
Participated in the U-22 Camp for Team Canada in 2007
Played in the CWHL for the Boston Blades


Goalie Coaches

Robin Cumming

Instructor with Skills Plus since 2007
Goalie Instructor and on-ice assistance
WMHA Coaching Mentor For Goalies
AAA/AA/MD Coach since 2009 with Waterloo Minor Hockey
Player for 35 years (goalie)

Zac Prattis

Worked at Skills Plus hockey since 2012
19 years experience as a goaltender
Played in Waterloo and Stratford
Studied French and communications at Wilfred Laurier University…BA and BE
High School Teacher
On-ice Skill Coaches

Tye Calder
Head Ice Skills Plus Hockey Skills Coach and Associate Group Leader since 2007
Former Assistant Coach of the Waterloo Atom AAA and Midget AAA Hockey Team
Currently an Electrician Appretice
Former Waterloo Minor Hockey Rep Player, Waterloo Siskin and Paris Mounties
NCCP Development 1

Tyler Micher
An active Skills Coach with Skills Plus Hockey since 2017

Active Rep Coach with the 2011 age group

Grew up playing Rep Hockey in Kitchener Minor Hockey

NCCP Development 1 Coaching Certification
Klara Heinisch
 Skills Coach at Skills Plus Hockey since summer 2012
Volunteer coach for The First Shift program by Bauer and Hockey Canada
Played BB girl's hockey for the Waterloo Ravens growing up with a total of 14 years experience as an ice hockey played
Grew up participating in a variety of other sports including baseball, soccer, field hockey, boy's ball hockey and high school swim team
Assistant coach of Waterloo Wolves boy's Major Peewee house league team in the 2014/15 season
Earned Bronze and Silver Duke of Edinburgh Awards, and currently working on her Gold level
this award is given to students between the ages of 15 to 25 who exemplify high level leadership qualities through a certain number of volunteer hours, physical activity, chosen skills and adventurous journey
Earned Schulich Scholarship which is awarded to university students who maintain an average above 80%.
Currently completing the Concurrent education program at Brock University in St. Catharines and will be qualified to teach grades 4 to 10 upon graduation with her teachable subjects being
English, Music and Phys-Ed.
Currently employed by Waterloo Infant Toddler Daycare Association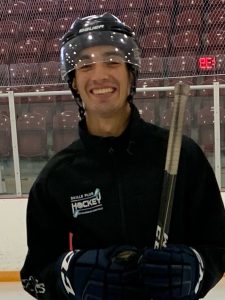 Alistair Viegas
Training at skills plus since I was 8
Coaching since I was 14
NCCP Hockey Canada Skills 1 certified
Respect in sport certified
HCOP Level 3 Referee (Linesman for u18 provincial championships in 2022)
Laurier Varsity Soccer goalkeeper and captain